daily swim motivation WORKOUT COLLECTIONS
Improve your swimming and become faster, stronger or swim longer distances. Our collections are geared for specific training goals. Save your favourites for easy access. Workouts include:
Technique instruction video
Conditioning training program
Coach tips & scaling options
TRY IT NOW
Free weekly workout, tips & more NEWSLETTER
SWODs hit all the bases
I'm a pretty competitive triathlete but, with a family and my own business, I can only swim twice a week. The SWODs are perfect as they hit all the bases: technique focus with sprint or endurance work, all in an one hour package. At 39, I'm swimming as well as I ever have.
GET ME OUT OF MY COMFORT ZONE
I stumbled upon SwimGym after years of swimming laps, and their workouts get me out of my comfort zone by pointing out technique optimisations and gently pushing the cardio limits with creative and varied training routines. I'm hooked!
swim training database FIND YOUR WORKOUT
Find the perfect swim training in our extensive database and search by goal, intensity or distance. Save your workouts to your personal clipboard and train wherever you are.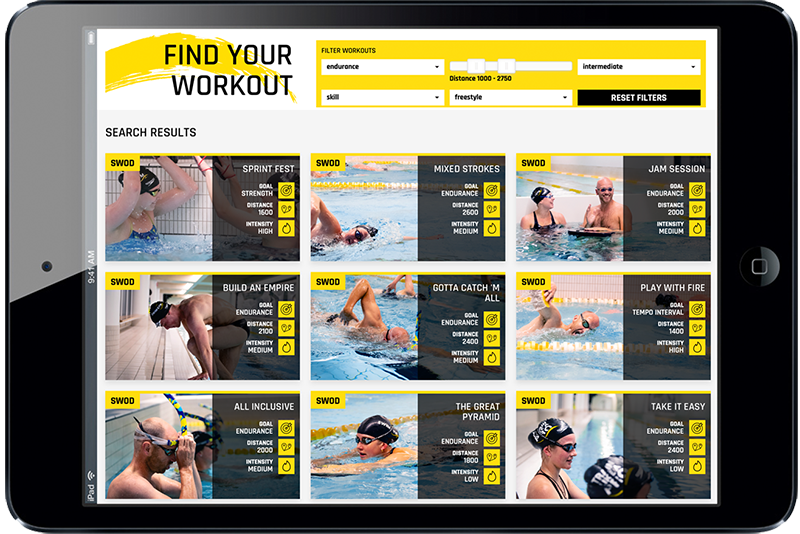 online swim coaching START TODAY
Daily new swimming workouts
Step-by-step video technique courses
High quality technique instruction videos
Workout collections to achieve your goals
Extensive workout and video database
SIGN UP