Skills & drills
Catch-Up (snorkel)
This is the perfect drill to increase the propulsion and length of your stroke by pulling one arm at a time. Swim one arm at a time and let one arm catch up with the other at the front of your stroke. 
How to do it 


Swim freestyle but pause at the front of every stroke, letting your hands catch-up next to each other


Pause for a split second before starting the next pull-through with the other arm


Alternate arms and maintain a steady kick when taking that pause


Focus points 


Emphasize the whole freestyle pull: first the catch, then the pull and finish with a strong push out


Stretch out your arms both in the front and in the back when pushing out


Stay relaxed but maintain a strong kick


Coach tip

Alternate the catch up drill with snorkel with swimming regular freestyle. Maintain the same stroke length and relaxation. The best way to check your stroke length is to count your strokes regularly. The less strokes you make, the better your stroke length.
COACH TIP
Emphasize the whole freestyle pull. First position the forearm perpendicular to the surface without any power, for a nice catch. Then accelerate the forearm and hand backward for a strong push. Keep the length in your strokes!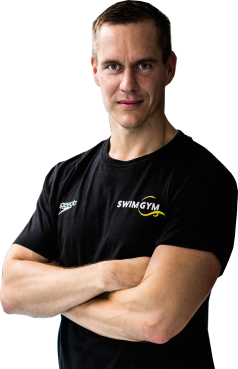 Pre set
1 ROUND
distance: 1000
stroke
pace
rest
4 x 100M
Mix
Easy
20s
as 100 freestyle + 100 no-freestyle (repeat)
6 x 50M
Drill
Easy
20s
drill: as 25 Hinge & Pull (see instruction) + 25 freestyle
6 x 50M
Drill
Easy
20s
drill: as 25 Catch-Up (snorkel) + 25 freestyle

rest after round: 0s
Main set
4 ROUNDS
distance: 1200
stroke
pace
rest
1 x 50M
Choice
Easy
10s
as no-freestyle
1 x 100M
Freestyle
Easy
10s
1 x 50M
Choice
Easy
10s
as no-freestyle
1 x 100M
Freestyle
Easy
10s

rest after round: 60s